When Eric Idle & Eddie Izzard Take Questions on "What About Dick?" Over AMA & Twitter, It Was "A Bit of A Love Fest"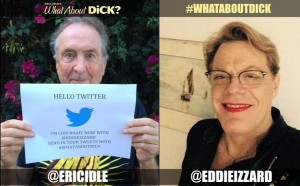 The gents discussed their rehearsal process:
"We had a no dickheads policy"
And how the Brits always like to keep things by the books:
"Eddie did a different pre-curtain announcement every night, totally different and utterly hilarious"
Eric told his secret for keeping a straight face on stage:
"I was always cracking up. Eddie always tried to get me to giggle"
Eric & Eddie addressed what it was like, working with all those other big stars…
"It was a bit of a love fest. We all hung out below the stage…it was fun."
How about that Tracey Ullman?
"She's bloody wonderful."
And Mr. Billy Connolly?
"It's always wonderful to work with Billy Connolly."
And most importantly, when asked by a fan what to call their new dog…
"What about…Dick?"
"What About Dick?" is now available on iTunes!