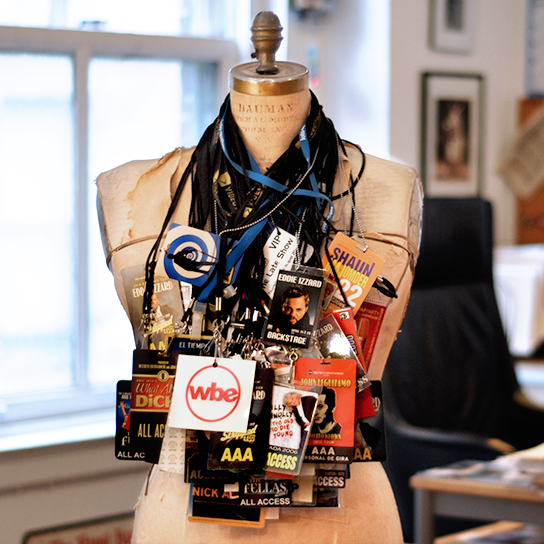 WestBeth Entertainment, founded by Arnold Engelman, began in 1977 as WestBeth Theatre Center. With three performance spaces, it made it's mark as the home for experimental, innovative, and daring new works including the original production of Hedwig, and performers like Stephen Colbert, Patti LuPone, Sandra Bernhardt, Margaret Cho, and John Turturro.
Now, for over 30 years, Arnold has evolved WBE into a truly unique company that's consistently delivered critically acclaimed, financially successful, and groundbreaking productions that make the artist's and audience's dreams come true. WestBeth has produced and managed some of the most unique shows across North America in venues including Madison Square Garden, Hollywood Bowl, Carnegie Hall, Toronto's Massey Hall, The Chicago Theatre, and Lincoln Center.
Our most recent productions include:
Aunty Donna's  North American debut tour of New Show
Noel Fielding's  North American debut tour of An Evening with Noel Fielding
Dylan Moran's Off the Hook North American tour
Billy Connolly's High Horse tour
Eddie Izzard's Force Majeure in Canada and all 50 U.S. States
Puppet Up! – Uncensored with The Jim Henson Company's national tour, Off-Broadway, Australia tour, 2013 Edinburgh Fringe Festival and and a 2 month run in Las Vegas
Past productions include:
Billy Connolly's The Man Live tour of the west coast,
Dylan Moran's Yeah, Yeah in cities across the US and Canada,
Trevor Noah's Born a Crime for 6 weeks off-Broadway
John Leguizamo's Ghetto Klown on Broadway, the West End, and Colombia, South America; 
Simon Amstell's one man show NUMB in New York and other cities around the US; 
Eric Idle's What About Dick at the Orpheum Theatre in Los Angeles; 
Billy Connolly's tour The Man Live in New York and San Francisco; 
Eddie Izzard's Dress To Kill, Circle, Sexie, Stripped—a 35 city US tour and tour of Canada, Stripped Too:  US Arena tour, Stripped to the Bowl, Stripped to the Shore; 
Billy Connolly's Too Old To Die Young tour in America and Canada; 
Lewis Black's Nothing Sacred show at New York's Lincoln Center and Carnegie Hall, as well as Lewis' Dual Citizenship Tour in Canada and 'In God We Rust' at City Center in New York.

Arnold Engelman, as Producing Director of WestBeth Entertainment, has guided the development of the company into a well respected producing organization and once an upscale performance facility.
As a graduate of Denison University with a BFA degree in Theatre & Film,  Arnold returned to his native New York City as production coordinator for Tom Field Associates, Inc. The client roster included: The Beach Boys, Elton John, The 1976 Bicentennial Commission, The Rolling Stones, as well as many dance and theatre companies.
When Arnold founded the Westbeth Theatre Center in 1977, he gained a reputation as a skilled executive producer, co-ordinating artistic and business elements of live productions for the early stages of development to the ultimate large scale commercial venture. Over 100 productions produced under the auspices of Westbeth Theatre Center/Arnold Engelman have been commercial transfers to Broadway, off Broadway and national tours. Included in this list: The Life (Broadway), Tango Appasionada (Broadway), Sandra Bernhard's I'm Still Here...Damn it!!! (Broadway), Eddie Izzard's Dress to Kill (off Broadway & Tour), The Taffetas (Off-Broadway), Quiet On the Set (Off-Broadway), The Cardigans (Tour), and Ray Davies 20th Century Man (Tour)
Cy Coleman, Burt Bacharach, Joe Layton, John Cassavettes, Judith Ivey, Gillian Lynne, Graciela Daniele, and Pat Birch are some of the creative individuals who have collaborated with Arnold on theatrical projects.